Register today, teach WERQ tomorrow!
WERQ is now offering a one day certification to become a WERQ Dance Fitness Professional.
WERQ (pronounced "work") is the wildly addictive dance fitness class based on the hottest pop, rock, and hip-hop music. Since its debut in Chicago, WERQ has been featured as one of the hottest workouts in the US by SELF Magazine, Health Magazine, IDEA Health & Fitness Journal, and InStyle Magazine.
There are two ways to become a Certified WERQ Instructor.
1. Attend the Full Day WERQ Dance Fitness Professional Certification ($299) OR;
2. Attend the Partial Day WERQ Dance Fitness Continuing Education Course* ($199) AND show proof of a nationally recognized Group Fitness or Personal Training Certification.
About the training: WERQ Dance Fitness Instructor Certification prepares you to teach safe and effective WERQ Dance Fitness classes. Why WERQ?
WERQ blends athletic dance moves with Top 40 hits. No one does hip hop like WERQ. "This is not your mom's WERQout!" says a WERQaholic at Purdue University. WERQ has over 300 choreographed routines available for WERQ Instructors.
Instructors have the freedom to make their playlist from the extensive WERQforce video library. New routines are uploaded every Tuesday.
The FULL day course includes basic concept for teaching safe and effective dance fitness classes to large groups. While the PARTIAL day course includes concepts and teaching methods specific to the WERQ dance fitness brand. All participants will experience a live WERQ Master Class and practice The 3Q1 Method of cueing WERQ classes. At the end of the training, each participant must complete a 50-question multiple choice exam to access the WERQforce online library and leave with a license to WERQ.
*Pre-Requisite for Continuing Education Course: In order to register for the Continuing Education Course Partial Day ($199), you must show proof of a valid nationally recognized Group Fitness or Personal Training Certification on training day. If you are not a Certified Fitness Professional, you must register for the Professional Certification Full Day ($299).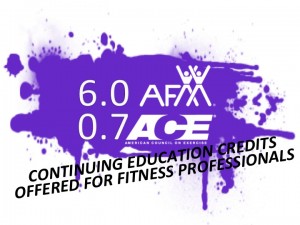 Continuing Education: This course has been approved for 6.0 AFAA CEUs and 0.7 ACE CECs.
Register now for upcoming training workshops
Date & Time
Gym Name
State
Address
Register
Sunday, May 15th 2016
8:00am - 5:00pm
RiverPlex
IL
RiverPlex 600 NE Water St. Peoria, IL 61603
Saturday, May 21st 2016
8:00am - 5:00pm
ExxonMobil YMCA
LA
ExxonMobil YMCA 7717 Howell Blvd. Baton Rouge, La 70807
Sunday, May 22nd 2016
8:00am - 5:00pm
Sport & Health
VA
Sport & Health Stafford 315 Garrisonville Road Stafford, VA 22554
Sunday, June 12th 2016
8:00am - 5:00pm
Renita Fitness
IL
Renita Fitness 11114 S. Kedzie Chicago, IL 60655
Sunday, June 26th 2016
8:00am - 5:00pm
GroupFit
TX
GroupFit 8320 Louetta Rd Ste. 194 Houston, TX 77379
Sunday, September 25th 2016
8:00am - 5:00pm
Hyatt Regency McCormick Place
IL
Hyatt Regency McCormick Place 2233 South Dr. Martin Luther King Jr. Drive Chicago, IL 60616-9985
Saturday, October 22nd 2016
8:00am - 5:00pm
Purdue University
IN
Purdue University Division of Recreational Sports 355 N. Martin Jischke Dr. Lafayette, IN 47907