*PICTURED LEFT TO RIGHT:  Jan Barrick, Haley Stone WERQ Master Trainer, Sara Barrick WERQ Instructor
My entire fitness routine changed the day I found WERQ, Haley and Julie.  I went to an open house at a local dance studio showcasing different dance fitness classes and their enthusiasm and high energy captured me immediately.  The first thing I did after class was tell my mom, Jan, that I found these 2 amazing instructors and she had to come take a class with me!  I knew she would share my excitement.  She did, we were hooked, and the rest is history.  We've been taking WERQ together ever since.
I love WERQ because it's just fun.  That's the simplest way to put it. I've been dancing on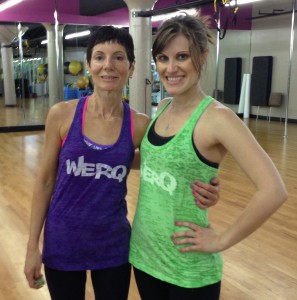 and off since I was a kid but after coming home from college I found it hard to find good dance classes.  WERQ has everything I was looking for – a class combining dance and cardio fitness.  The hour flies by, especially when it's music you really enjoy.  WERQ makes it easy to want to stay active because it is so much fun.
My mom and I take class together.  It's a great way for us to spend time together doing something we love.  Often times when we get together for dinner we find ourselves talking about the new WERQ songs and why we love them.
I began to consider WERQ Instructor Training and I was very interested but it took some time for me to decide to train.  I was a WERQaholic, but I had never taught any kind of fitness class before.  Haley and Julie make it look so effortless and fun I knew I wanted to do this.  I completed my AFAA Group Fitness Certification, took WERQ Instructor Training and now I am teaching WERQ in Oak Park, IL.
I'd love to see you in class.  You can find my current schedule here. You may even see my mom there too!